Dengue fever management involves supportive care to relieve symptoms and prevent complications.
Here are some key points:
1. Rest: Get plenty of rest to help your body recover.
2. Hydration: Drink plenty of fluids to prevent dehydration. Oral rehydration solutions are recommended to replace lost fluids and electrolytes.
3. Pain relief: Take over-the-counter pain relievers like acetaminophen (paracetamol) to reduce fever and relieve pain. Avoid non-steroidal anti-inflammatory drugs (NSAIDs) like aspirin, ibuprofen, and naproxen, as they can increase the risk of bleeding.
4. Avoid mosquito bites: Stay indoors and use mosquito repellents to prevent further mosquito bites and reduce the risk of spreading the virus to others.
5. Medical supervision: Seek medical attention if symptoms worsen or if you develop severe dengue symptoms, such as severe abdominal pain, persistent vomiting, bleeding, difficulty breathing, or signs of shock.
It's important to note that dengue fever can progress to a severe form called dengue hemorrhagic fever (DHF) or dengue shock syndrome (DSS), which can be life-threatening. In severe cases, hospitalization and specialized medical care may be required. Please consult a healthcare professional for personalized advice and treatment options based on your specific condition.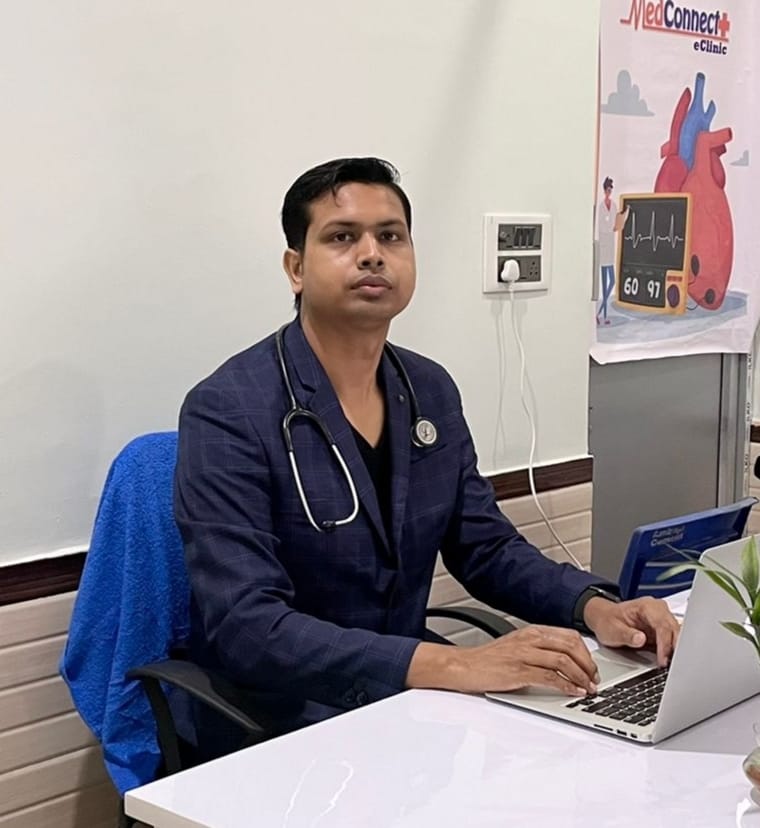 Dr. Debabrata Sarkar is a good Physician & Diabetes Doctor in Kolkata, Burdwan, Berhampore, Malda, Raghunathganj, Lalbagh. He did MBBS from Burdwan Medical College in 2013. After that Dr. Sarkar joined as House Physician in Internal Medicine and Cardiology department respectively.He gained wide experience in various patients of medicine and cardiology.He completed Post Graduate Diploma in Diabetes & Renal Management, Post Graduate Diploma in Advance Cardiology & ECG (Certified by Royal College of Physicians, UK). Currently Dr Sarkar is working in Murshidabad Medical College & Hospital.
FAQ :
How to book an appointment  – You can book an appointment by calling at 9734100999 or book appointment  online from 'MedConnectPlus: Book Doctors' app
Android: bit.ly/3a9bY84
IOS : bit.ly/mcplusios
How much consultation cost ? – Consultation fee is Rs. 400
May I know clinic locations? – Kolkata, Burdwan, Berhampore, Raghunathganj, Lalbagh, Malda